Welcome!
Did you get one of our postcards? Our records show that your address in the State Voter Registration System may not be current. We matched all registered voters' public records with the National Change of Address database (USPS) and it showed that your address where you are registered as a voter is undeliverable. That means that any election materials sent to your address on your voter registration record will be returned as "undeliverable". This can include election notices and mail-in ballots.
Through publicly available voter records, you are listed as a registered voter but the county may NOT have your current address. This is easily fixed and you have two options: update online using Online Voter Registration or fill out and mail a paper form.
OPTION 2: Click on the link button below, download the voter registration form, fill out, print, and mail as soon as possible.
---
---
---
---
---
Your local County Clerk's Office
For any questions regarding the status of your voter registration and address, please contact:
County Clerk
Elaine Flynn
Address: P.O. Box 1110, 75 Bayard Street, 4th Floor, New Brunswick, NJ 08901-1110
Office Hours: 8:30am-4:15pm
732-745-4202 (FAX) 732-745-2170
Website: www.co.middlesex.nj.us/ Government/Departments/CS/ Pages/County%20Clerk/ County-Clerk—Elections.aspx
Sample:
---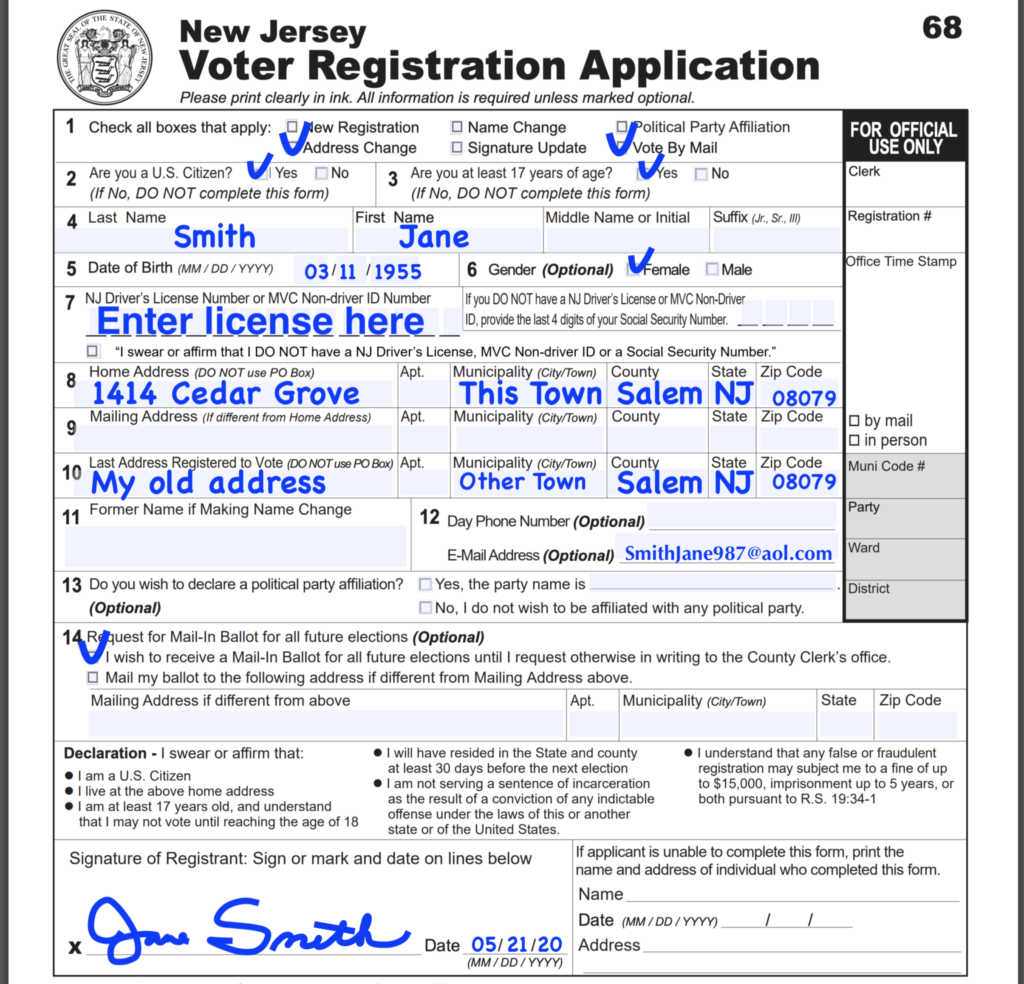 ---
Voting by mail (also known as 'voting from home') is convenient – and safe – for everyone.
Convenient: You will get your paper ballot mailed to your mailbox!
Know Your Ballot: Ballots will start sending out about 45 days prior to each election day. That means you have 45 days to vote. It's really early voting using a paper ballot.
More options: You can drop it in your mailbox, a USPS mailbox, at a secure ballot drop box, or bring it to your local Board of Elections.
Secure: Because it's a paper ballot, there's a record of the county receiving your vote.
You can learn more about our non-partisan charitable organization here.