Protect our Health. Protect our Vote.
We want to make sure that you will be able to vote in the upcoming elections safely. 😷 With your health and the health of county elections officials and staff tasked with holding our elections in mind, we encourage all voters to VOTE FROM HOME. We have this tool and it's called "Vote By Mail." 📬 That's right, you can vote from the ease and comfort of your home and not have to expose yourself to others in the community. 👏Until the laws change or by Executive Order by Governor Murphy, you must apply to Vote By Mail in order for your county to send you a mail-in ballot.
First, you must be registered to vote.
The November General Election is November 3, 2020 and the voter registration deadline is October 13, 2020. Click on the link button below, download the voter registration form, fill out, print, and mail as soon as possible. Alternatively, if you live near your County Clerk's office, please call to see if they are still open during these times, what the business hours are, and if/when you can come in to pick up a form for free and/or fill one on the spot.
---
---
What it looks like: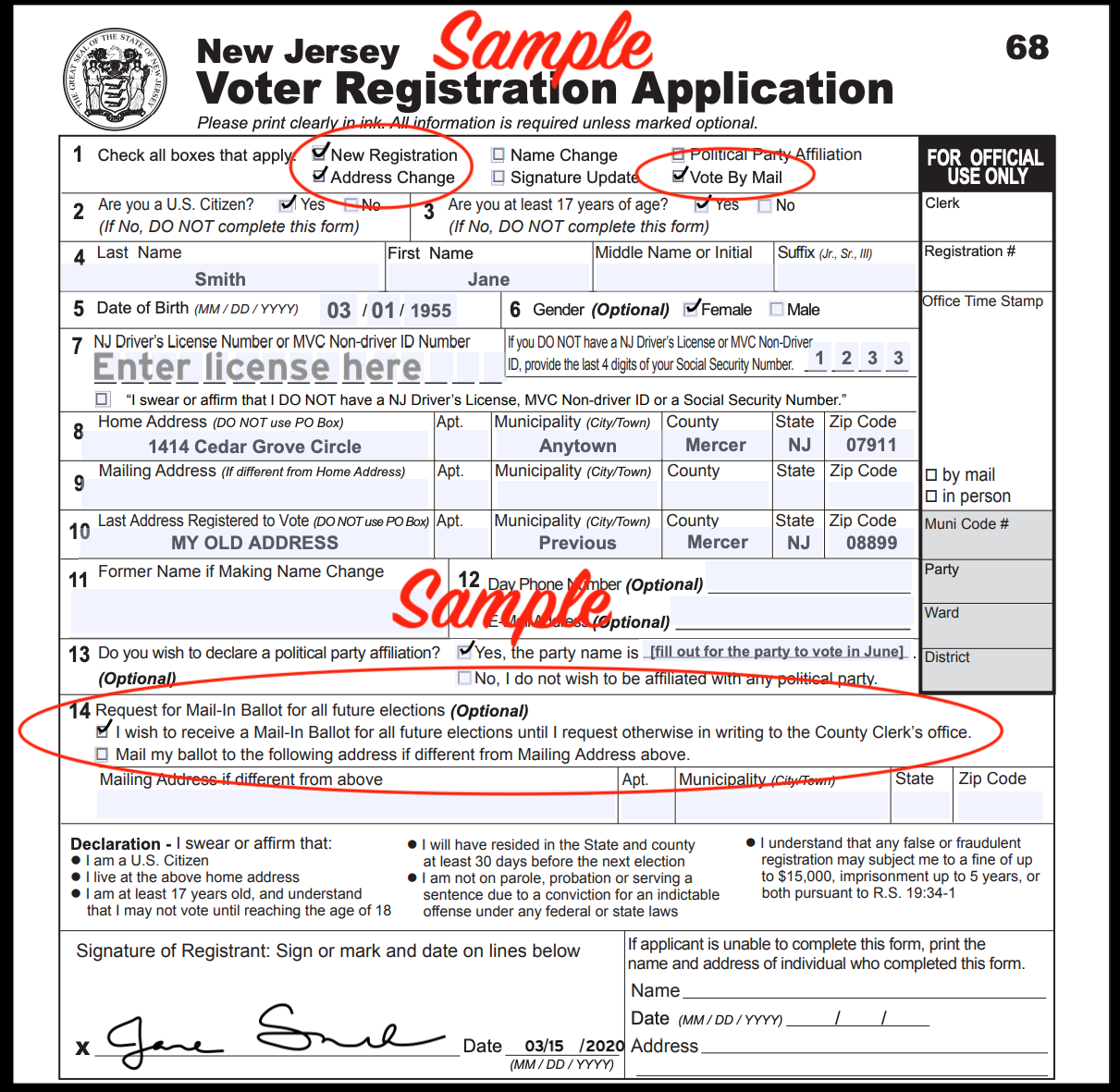 This forms allows you to do many things. For example, you can register to vote for the first time with "New Registration" checked in Box 1. Let's say you moved to a different town or county, you can update your address with "Address Change." But we highly recommend that you check "Vote By Mail" on this form in Box 1. To make it easy for yourself, in Box 14, check the first option and you will keep receiving paper ballots in your mailbox until you request it to stop.
Choose "Vote By Mail" on this form!
"By voting from home, each of us can be a part of the solution to minimize the growth of a community spread viral illness. Using Vote By Mail eliminates the need to gather at the polling precinct on election day to vote, avoids the touching of voting machine surfaces, and reduces the risk for election day poll workers and volunteers. It employs self-isolation and social distancing, two critical practices to stem the contagion."

Winn Khuong, Executive Director, ATNJ Education Fund
What other benefits from Vote By Mail?
Convenient: You will get your paper ballot mailed to your mailbox!
Know Your Ballot: Ballots will start sending out on September 19th. That's 45 days to vote when you're ready.
More options: You can drop it in your mailbox, a USPS mailbox, a secure ballot drop box, or bring it to your local Board of Elections.
Secure: Because it's a paper ballot, there's a record of the county receiving your vote.
---
Yes, there is a separate VBM Application!
While there is a county Application to Vote By Mail form 📧, there's no need to fill that one out instead of or in addition to this Voter Registration Application. One benefit of using the Voter Registration Application is that it has PRE-PAID POSTAGE! So skip the stamp and fill out this form! Mail today! 📬
---
Your local County Clerk's Office
For any questions regarding the status of your voter registration and address, please contact:
County Clerk
Celeste M. Riley
Address: 60 W. Broad Street, Bridgeton, NJ 08302-2665
Office Hours: 8:30am-4:00pm
856-453-4860 (FAX) 856-455-1410
Website: ccclerknj.com/
You can learn more about our non-partisan charitable organization here.
👇  *** If this ☝ was helpful to you, please share and help inform others.